E-Mail
More Dean
Links
Friends
An avid movie collector reviews movies, games, and TV shows for the common man, among other things. Spoiler Free
Tuesday, April 27, 2004
Onimusha 3 for PS2
I haven't played it but I will, because Jean Reno is in it. That's it. Thats all it takes. Check this
link
for a few good shots of Jean Reno's character. I never cared about the Onimusha series but you let me play as the greatest thing France ever created and I am stoked.
I scored a copy of the Arcade Classics game from the same Pawn Shop mentioned below, and it includes the best game ever.
Tapper
You serve angry customers drinks. Its the goal of us all captured in a game. Need I say more.
In other game news I sold
Manhunt
, good riddance. I am getting deeper into
Counter-Strike
for PC, and we finally beat
Fatal Frame 2
. Both of those games are highly recommended. I am still rocking on
WWE Smackdown: Here Comes the Pain
and
Champions of Norrath
, but soon I will send one back and rent something else so I can review it.
In DVD news I scored some more hot hits at the local pawn shop. Check these out.
Fear and Loathing in Las Vegas - Criterion Edition
This movie is an experience, as you enter the altered state of mind of Hunter S. Thompson, the crazy journalist for
Rolling Stone
. It's my favorite non-
Monty Python
movie that Terry Gilliam directed, and this is Johnny Depp's strangest role yet which says a whole heck of a lot. The Criterion features are amazing including 3 (Count Them) Audio Commentaries that I want to listen to, including one from Hunter himself. This is very rentable, and for a few of you, this Criterion DVD will be a true prize.
Scarface Special Edition
Its a classic, and I upgraded from the 2 tape VHS to the 2 disc DVD. A solid trade, and if anyone wants to buy my VHS send me an e-mail I'll drop it for 3 bucks.
Also, I know it has been forever since I made a list of some sort. I am working on it. I will even try to make it epic. But be ready to settle for average.
Monday, April 26, 2004
Master and Commander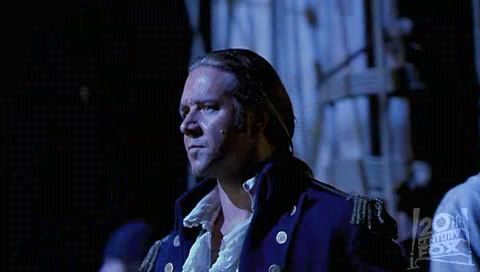 I had renewed vigor to see this after
Dave
gave it a glowing review in his blog. I was also excited by the features on the Ultra-Special edition of the movie so I really wanted to like it so I could buy it. But I was disappointed. The movie was well made and interesting but it wasn't thrilling, at all. The conflict of the movie just wasn't as significant as it should have been and when the ending came I wondered when the climax of the movie happened. I did watch the movie distracted and was unable to hear completely in the beginning so I will admit to a margin of error, but I wasn't excited by the movie. It was rather non-climactic and I would have liked it better if it had been developed more fully. Or actually less fully. The movie had more character development for its many crew than most movie's would have done and I think the time spent developing them took away from the development of the story and conflict. So as I came to appreciate the characters I grew less excited about the battle to befall them. I think this would have been a great TV show or mini-series but the movie format seemed to limit the movie's potential. Often books fall prey to this problem as you try to fit in the many elements that existed in the book that just can't be explored in 2 hours. It was a decent film with good acting and drama but the action was scarce and the thrills are weak. *Rent*
Interstate 60
A indie film that had a large cast of stars including James Marsters (Cyclops in
X-Men
), Gary Oldman, Chrisopher Lloyd, Amy Smart, Michael J. Fox, Kurt Russell, Chris Cooper, and Amy Jo Johnson. For those of you who recognized Amy Jo Johnson be ashamed because she was once the acrobatic Pink Ranger in the
Mighty Morphin Power Rangers
. It was written by the man who wrote the
Back to the Future
movies and with a cast like that I thought it might be worth my time, and it was. I guess I would compare it to
Gulliver's Travels
, but it is a rather unique movie. The story follows James Marsters who is about to head off to college and is unsire of what he wants to do with his life. He runs into Gary Oldman's character who is a deceptive wish granter and wishes for "Answers to his Life" this wish is better than the greed based wishes that he usually gets so he sends him on an adventure of sorts on a secret Interstate. The stops and people he meets along the way are all interesting and possibly satirical like
Gulliver's Travels
and it is a fun feel-good adventure. I liked the movie a lot, and would recommend it as a renter, maybe even a date movie because it has that whole True Love story in it. *Rent*
Kill Bill vol. 2
I was going to wait for Julie to write her mini-review but she is bogged down with her final papers before graduation so you can expect her reviews in a later update. I thought that
Kill Bill vol.2
was excellent and I would even say it is better than Vol. 1. Although the action drops off significantly from the first one, which was wall-to-wall action, the story-line and characters were much better in this half. I talked to Dave about it and I felt that
Kill Bill
did work better as two half movies, and that it would have suffered if it had been cut down to fit within a one movie time frame. There were a few scenes that could have been shortened but there wasn't any scenes that I would have wanted to cut, and there would have been many scenes cut to make it shorter. The best part of the movie was the ending which was a better twist than I expected, I was prepared for the simple "Do I feel better after exacting revenge?" storyline but it was more clever than that. You'll enjoy it. I'm gonna *Buy* it but you all should at least watch it. Unless you don't like hardcore action, in which case avoid like the plague.
Thursday, April 22, 2004
Games that Make Me Mad

I have many complaints about games, however these two piss me off the most. I'm a heavy gamer as in I play a lot, however I am not a hardcore gamer in that I want gaming to be a tortuous challenge to test my mettle. I want to play it, enjoy it, and beat it. However, lately games have been getting really really difficult and I haven't had the patience to finish them. I tried to rock out Manhunt again, but each level takes about 3 hours to beat because you have to die multiple times to learn the level enough to beat it. Each death represents a 20-40 minute replay of the level to get to the part that killed you before. This repetitiveness tires me quickly and after 2-3 deaths I quit. Sometimes I can pick the game back up and sometimes I can't. Usually I can't. Kill.Switch, Max Payne 2, Hitman, and now Manhunt have all been put away because they were just as described above.

The second problem stems from the first. When a game gets really difficult you have two options, you get a walkthrough from a site like Gamefaqs.com or you enter a cheat code. I use Walkthroughs when I need to but I don't like having to read my way through each problem I want to just play. So then you have cheat codes, but most games anymore don't let you use cheat codes until you beat the game. BUT WHY?!? If I could beat the game I wouldn't need Cheat Codes! I need a temporary God Mode to get me past the current problem level so I can continue enjoying the game. For their lack of having them, I get tired and sell/return the game. I can't see that being good for the game, so why don't they make these features available for us less Hardcore gamers? I don't know, but maybe the gaming community will read this and change...and maybe Donald Trump will read this and give me money...and maybe George Bush will read this and appoint me Secretary of Games...and maybe I'll wake up tomorrow just as lame as I was today. Most likely the lame one.

By the way I saw Kill Bill vol. 2 and I liked it however I am going to hold off on the review until Julie writes up hers. That's right I have asked Julie to give a quick little Female perspective on all the guy movies I drag her to. She takes a bit longer to write hers because she takes it more seriously than I do since I just think out loud onto the screen and publish it, but hopefully it will be worth the wait. And maybe this will improve my female demographic whom I haven't been hearing from much and therefore I doubt that they even exist. If so, tell you Female friends a sensible voice is coming, and I will not be the only idiot ranting on this site. Not that Julie is an idiot. But you know what I mean.
Tuesday, April 20, 2004
Supporting Actor of the Week
Jack Palance
Did you know they nominated him for an Oscar for
City Slickers
? I was dumbfounded. But not to detract from his power, Jack Palance is one of the best at playing an older powerful man.
City Slickers
is probably his most famous role, where he plays the part of Curly, the near sadistic yet sage cattle herder. The roles you might have missed include his villainous roles in
Tango and Cash
,
Batman
, and
Young Guns
; as well as his heroic roles in
Cops and Robbersons
and
City Slickers 2
. Plus, he played
Dracula
in one of the many portrayals of the caped ghoul when he was a bit younger. Actually, he rocked it out a lot when he was younger with roles in
Dr. Jekyll and Mr. Hyde
,
Shane
,
Sudden Fear
, and
Panic in the Streets
. Plus, he's Ukrainian and us Ukrainians need to honor each other.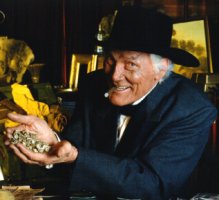 American Splendor
A terribly unique movie, that was quite enjoyable. The story chronicles the life of a man who chronicled his life into a comic. The twist is that this man is an angry loser, and his life is hardly ideal or exciting. Paul Giamatti is excellent as the star, and the movie is often intercut with the real life star which was an interesting spin. The movie was unlike any I have seen, and I am glad I bought it for a quarter on DVD. AH HAHAHA. It's not quite worth owning but it would be a good renter.
Looney Tunes: Back in Action
A decent family flick although it was a bit too goofy to be fully enjoyed. Its strange to say of
Looney Tunes
but the movie is too cartoony. The movie all too often played with the conventions and made too many jokes to the audience. I liked it because Daffy is the lead more than Bugs Bunny, and Brendan Fraser is always delightful as the star. Steve Martin was awful, whether its his fault or the writer's he was barely stomachable. As for the Warner Bros regulars, you will most likely see everyone you want to, from Wiley Coyote to Marvin the Martian. I'll give this a "rent" for you family folks, but it isn't going to become a guilty pleasure for us adults.
School of Rock
Another good family pick, although Julie took offense to the kids swearing a little during the movie. Other than the minor swearing the movie was much more kid friendly and family oriented than I thought. As for Jack Black its him playing himself, therefore its excellent. The kids in the cast were all good, which is impressive for kid actors who are notoriously irritating. The supporting cast was enjoyable with highlights from Joan Cusack and Sarah Silverman, both of which never grow old on me. For those of you who love Rock and Roll or Jack Black this is a "purchase", everyone else should rent this. I would recommend that kids under 11 might want to skip this one though, older than that should be cool.
Friday, April 16, 2004
If you have been having trouble accessing my site try to remove the www from the link. For some reason that works.
Corrupt Christian Music
I have been Soapboxing on Christians a lot lately and I was planning on taking a break, but
George
(Check his site for more bashing) showed me a site that was so poor that it was almost funny. The existence of Christians like this make me ashamed to advertise my faith, and their mindless blabbing insults the entire community of Christians. The site is
www.corruptchristianmusic.com
which is dedicated to debunking the spiritual value of every Christian artist in existence. Here are some quotes about Christian artist Toby Mac
"Sometimes it is said McKeehan didn't grow up in a Christian home, but instead spent his younger days as a DJ for parties - so whenever and if he was ever saved, it is obvious that he didn't completely turn from his past, "denying self" as Jesus requires." Typos Corrected by me
So the site calls into question his very salvation, which is an extremely poor judgment call.
"The country of Jamaica is said to be the birthplace of the cult, Rastafarianism and Reggae music. Jamaica is loved by Toby and is what he calls his second home. Here we are going to show some unmistakable connections with Reggae music, a genre which is completely founded in the cult, Rastafarianism." - Typos corrected by Me
Jamaica as a whole is corrupt, and all Reggae is evil because of its possible origins.
They have a section dedicated to showing the evil in the bands that Christian artists mention as musical influences, which in part makes them evil.
"R.E.M - Lead singer Michael Stipe is an admitted bisexual, and it is rumored that he is infected with AIDS. Their music is vain, and has no purpose. They even have song titles like 'Loosing My Religion'" - Typos Left in by Me
Michael Stipe has admitted to being Bi-Sexual however the AIDS rumor is not only like 10 years old, but entirely untrue. As for "Losing My Religion" it is a well-published fact that the song has nothing to do with Religion.
The site is chock full of these typoed, poorly thought out, and unresearched thoughts, that only serve to damage the reputations of the Christian artists that they find. Check this Typo "Lynard Synard's".
Lynyrd Skynyrd
's picture was right next to the paragraph yet he continues to misspell is multiple times in various ways. The site is so bad, that I thought is was satire, and when I realized that it wasn't I was shocked. The #1 condemnation is that the artists are offering a watered down gospel, yet nowhere is there an indication of what would be an unwatered down gospel. I assume that anything less than singing the actual text of the Bible would be watered down, and for the artist to be in any way interested in the musical performance of style of the band would be entirely ungodly. This site is so repellent that it is an interesting read, I find it sad that these people exist, and their ignorance is almost comical. Like when he bashed Michael W. Smith because girls yelled for him at one of his shows. As if he controlled that, and as if it was meant as an act of Idol worship or something.
"His concerts draw hundreds of thousands of fans each year, mostly teenage girls who SCREAM out their AFFECTION FOR HIM non-stop throughout " - Bold His
Or how about this one.
"From the facts we'll present, P.O.D. proves to be pagan, occultic and part of every evil, satanic thing."
So we can tell without doubt that
P.O.D
are not only Christian but are in fact Satanic...Wow.
Oh but there is more.
"The "Amplitude" web site is full of trance music and advertises the game with the following statements, notice words like "addictive", "senses", "beat", "release yourself" and the worldly, ungodly artists this game is featuring"
"this very demonic game "
Amplitude
is a music mixing game.
P.O.D.
contributed music to the game. This makes them Demonic. Its a rhythm game, there is nothing tamer than that. I don't know what else to say. And since when are the words "Beat" and "Senses" demonic. Oh wait they explain that too.
"We're going to take some time here to concentrate on the subject of rhythm and beat as it relates to new age, which includes an ancient occultic practice called shamanism, a form of witchcraft. We'll show who currently uses rhythm
and beat and for what purposes."
So any use of "Rhythm" would then be evil, because cults use "Rhythms". Man I hope those cults don't get their hands on some water. What would we do then?
Read the site for some more, every page I looked at was worth blasting. I could do this all day.
Oh and just in case this guy above reads my blog, I wanted to give him reasons to dismiss my salvation. Read On.
Q Magazine
I asked to be subscribed to
Q
magazine this year for Christmas and my mother signed me up although she regretted it after she realized the cost once transferred from Euros to U.S. Dollars. So I am trying to appreciate this year that I will be receiving the best Rock & Roll magazine available. If you haven't checked one out head to your closest
Borders
or
Barnes and Nobles
and pick one up. The magazine is packed with features and articles much more than my
Rolling Stone
which is full of ads (although
Rolling Stone
is like a quarter an issue so I am not complaining) I have been very happy with it, although I have some bug complaints about two bands that they included in the Top 50 bands that changed the world. One is that they put
the Strokes
in the list at #29.
The Strokes
haven't affected a thing yet, and I don't think we will be looking back and 10 years and thinking about where we would be without them. They are a disposable rock group, and shouldn't have been placed above anyone on the list but especially the likes of
Pink Floyd, Parliament Funkadelic, Beastie Boys, Metallica
, and
Blondie
. I was dumbfounded when I read that. And almost worse, although that probably isn't possible is that they selected
The Sex Pistols
as the #1 band that changed the world. All of you sit back and try to think of a
Sex Pistols
song. Now that
Dave
has one in his mind and no when else I think we have debunked that one. To think they impacted the world more than any other band is mind-boggling, and that a Punk band would top the list is just as poor. Who cares about Punk, Punk is as dead as a musical genre can be. And if you are going to put Punk as the most influential musical genre in existence at least give the headlining honor to the number #17 band
The Ramones
. Although credit should be given to
Q
for including
R.E.M
in the top #20, it has been somewhat popular lately to forget to honor
R.E.M
in the rock lists of my many Magazines.
Suspiria
I picked this DVD up because it was a numbered limited edition 3-dvd set that looked very promising that would either be good or profitable to sell. I was wrong on both counts. It was an awful movie and I will probably only make 2-3 bucks selling it. The movie was one of those "Banned in the US" movies that came out while the Film industry was trying to figure out its stance on blood in movies, which then made it a cult classic. But it doesn't deserve it. The horror theory of the movie was that the movie would open with a freakish and sudden bloody scene and then would keep the audience on edge as to when the next grisly murder would occur. While the theory is sound you have to have more than 4 horror sequences in your movie to make it work. The gaps between scary scenes were about 30 minutes long and were populated with one of the worst horror movie stories ever thought up, and the only thing that was done to keep you freaked out was a spooky soundtrack. The soundtrack is definitely the highlight of the film, but when it is playing during mundane events like swimming in the pool and walking around in the daylight the intensity of the music is greatly diminished. As for the horror sequences themselves the first one was great and set the bar high for the rest which weren't even half as scary as the first, and the ending climax was so rushed you could tell that the budget must have run out, or the writers quit before the movie was finished. I have almost nothing good to say about this movie, the soundtrack was good but was abused, that's about it. Don't watch this unless you have to, which
CJ
tells me he does. Maybe his film background will see something I didn't but most likely he will be equally disappointed or maybe even more so since he isn't as big a horror fan as I am. Anyway he'll probably have a review up in a week or so.
Two Classics
I scored these both cheap in pawn shops and was extremely happy, especially because I was interested in the features included on the two-disc sets. Both of them are excellent demonstrations of powerful dramatic acting with solid performances by everyone in the cast. Both of these should be seen, and although
Glengary Glen Ross
won't excite everyone
Unforgiven
is the greatest Western ever made and Clint Eastwood's finest work.
Glengary Glen Ross
A drama about a Real-Estate sales office that begins to unravel when the office begins to hold onto the hot leads until some of the veteran salesmen start pulling their weight. The tensions run high, and the performances were unlike any I have seen in a drama. Al Pacino, Alec Baldwin, Kevin Spacey, Jack Lemmon, Alan Arkin, and Ed Harris all light up the screen and changed the way I view them as actors. Highly recommended, although probably better for film people who can stomach Drama without as much of the fluff.
Unforgiven
The definitive western that pretty much closed the book on Westerns forever. Clint Eastwood is an aging gunslinger who hasn't touched a gun in years and has since lived a peaceful farm life with his family. When his wife dies and the animals start to get sick he takes up an offer for a bounty job and brings along his old cowboy friend, the also aging Morgan Freeman. Gene Hackman is the chilling sheriff who is protecting the mark of Eastwood's bounty. The writing and directing is flawless, and the ending is extremely memorable. I would insist that everyone watch and then buy this one.
Personal Note
I have been invited to be a critic for an upcoming TV show; I don't know what show or even what kind although since it is a 30 minute show I am guessing a Sitcom. If I am allowed to print my opinions for you I will write up a review this weekend. I am excited about the opportunity although I don't know how I was selected for the event. It might have been this Blog, or for the Movie Preview Reviews I do, or maybe my name was selected from a hat and I am making a big deal out of it. Either way I get to go out for free, and that's good enough.
Tuesday, April 13, 2004
Guns in Hollywood
Guns are used constantly in Hollywood however they are often used wrong, and having gun training I thought I would help you all seperate some of the fact from the fiction. I know why they do the things they do, but sometimes I can't ignore the proper and actual way things work. Here are a few pictures to reference to understand what I am explaining however I am not going to dumb this all the way down because I am not in the mood to be as verbose. If you don't understand something e-mail me.
Revolver
Semi-Automatic Handgun
Cocking and Slide-racking
The most abused gun faux-pas is the unnecessary Cocking or slide racking of the gun. In a scene the hero is pointing a gun at the villain and the villain doesn't believe he is serious so he cocks the gun to show he is serious. Unless he is holding a revolver he was holding a useless gun because without the hammer back the gun might as well be empty because it won't fire. If he does have a revolver cocking it back makes the shot easier because you only have to nudge the trigger to fire, whereas uncocked the trigger must be pulled about an inch to fire. So this only makes sense with a Revolver.
Shotgun
As for shotguns, you get the gratuitous pumping. When you load a shotgun you do need to pump the action, once, and then you are loaded and ready until you fire a shot then you rack it again to dispel the spent shell and load a new one. Any additional pumping is wasting a bullet, because you expel an unfired shot. So when they keep racking the slide to make the cool sound, just know that they are dumb.
Click-Click-Click
When a gun runs out of ammo in the movies you get the Click-Click-Click sound as they pull the trigger and hit the hammer against the non-existent bullets. In real-life only a revolver would be able to do this. A semi-automatic gun would only click once because you do not cock the hammer with the trigger like you do with a revolver, the slide cocks the hammer for you when cycling out a used round. So you can't continually drop the hammer without manually sliding the action back, or pulling the hammer back yourself.
One-handed firing
If you have ever fired a powerful handgun one-handed you know how ridiculous the movies are concerning one-handed shooting matches. You could shoot a BB gun or a 22 with one hand, but anything stronger than that will lead to extreme inaccuracy. When you pull the trigger the recoil is tremendous and you can't steady the gun well at all, so while your first shot might be somewhat accurate, you are in no condition to quickly fire another. The recoil is very random when you shoot one-handed, whereas when you shoot two-handed all of your recoil is up and down because you are more in control of the gun. One-handed it spins left and right as well as up and down, so inaccuracy is far more difficult to overcome. As for really powerful handguns like the ones used in Clint Eastwood movies, you would be lucky to hit a wall with it one-handed and the recoil would probably spin the gun almost entirely out of your hand. Firing one-handed is fun, but I would never use it in real-life because I would like to hit my target with certainty and accuracy.
Accuracy
Guns can be difficult, but unless you are ghetto blasting one-handed you are most likely going to be accurate enough to be lethal, and should be able to land most of your shots into your target unless the distance is high. So in movies when someone is running away in a straight line and three men are standing there firing at him it would be most likely that he would have been shot by at least 60 percent of the bullets that were fired at him. I would assume that the policemen and full-time criminals that are featured in these action sequences would be proficient enough with a handgun to shoot moderately well, which would make them more than good enough to shoot fully revealed targets even if they are moving. Guns are not that complicated, it really does boil down to point and squeeze. I mean even Maggie was able to shoot Mr. Burns. This is the #1 reason that the end of
Face/Off
sucked.
Grenades
Grenades don't explode quite like they do in the movies. Grenades are lethal because when they explode they launch shrapnel (pieces of metal) which will lodge themselves into the things around them. So when you throw a grenade into a foxhole, the people inside it don't so much blow up but get dashed to bits by flying metal debris. However movies have fallen in love with the fireball explosions that we have grown to associate with grenades, however this is not the case with real grenades. That is why jumping on a grenade is a useful way of saving your friends in combat because you simply absorb all of the shrapnel into yourself, whereas if it really did explode like a bomb you would simply be getting a front seat to heaven. Don't get me wrong grenades definitely explode just not as dramatic and enormous as on the screen.
I think that's enough for today, most of the rest you know. Like you know that guns aren't loaded with infinite bullets, so characters should be reloading on a semi-frequent basis. But that is more of a stretch than a screw-up, the things above just don't make any practical sense. But ultimately who goes to an action movie for reality?
Some thoughts on Christina Aguilera
I was reading the
Top 50 Immortals of Rock
issue of
Rolling Stone
where popular artists and rock historians talk about the biggest "Immortals" of rock. It's a great issue, and I have read most of it, and now I am reading about the people I care less about like Patti Smith. In that article Shirley Manson (of
Garbage
) says that Patti Smith is a true rebel and thinks it is a shame that we consider Christina Aguilera a rebel. I thought about it, and initially agreed with her but I found that I couldn't think of why I am dismissing Christina as a non-authentic rebel. What circumstances would have to change for her to be taken seriously, or at least respected for what she is trying to accomplish? Would she have to step out of Pop music and move to a Rock album with her playing guitar to be taken seriously? It would seem that her genre is really what holds her back from credibility yet what if that is really the music she wants to make? She can either sell herself out to a less personal music and style to gain cred, or she can stay in Pop which is generally considered to be selling out by itself. Some people dismiss her for being a bit "slutty" however that seems to be the point of her rebellion if I understand the lyrics to her singles correctly (women should be able to be as sexual as men without the labeling of a "whore" etc.), so her changing that would then be selling out the thing that makes her "rebellious" in the first place. It just seems like she is doomed to be dismissed, and although I don't love her music I kind of feel bad for her. She is always compared unfavorably to her peers, often without grounds, and she is so easily panned by serious artists because of the above position. I wonder what the world will think of her in years to come? Or will she even be able to tow the line without much success for much longer before she moves on to something else? I don't know I was just pondering this, I have these debates all the time in my head, sometimes I remember to share them and sometimes I don't.
Monday, April 12, 2004
This segment is a Christian debate that might make less sense to those of you who don't care to read my Christian thoughts. It's a debate that exists within Christianity and since a large portion of my readers are Christians I write these on a semi-regular basis, however most of them are me smashing a Conservative Christian viewpoint that just embarrasses the rest of the Christian populace. This one is more internal and therefore probably not as interesting to those of my readers who are not Christian. You can feel free to read on to gain perspective, and I can be reached with any questions you have if you do, but I wouldn't at all be offended if you didn't want to read this at all. But all of you Christians better read this…because I said so.
Easter Sunday at the Mega-Church
I try to keep to media related issues on this blog, but I felt since this was Easter Weekend, and this is somewhat entertainment related I could indulge with this Church related issue. Whether you know it or not there is a large debate within Christianity concerning Mega-Churches, which are churches that exceed 1000 people and tend to be a bit more modern than many churches feel is appropriate. I have attended a Mega-Church twice now, and I feel that I can dismiss some of the debated issues based on these two attendances (and I am well read in the subject matter).
The First criticism that Conservative Christians have of Mega-Churches are that they are too superficial in their messages because they have to appeal to both New, Old, and Non-Christians. These churches grow so large and fast because the services are built to attract people to the Christian faith and break a lot of the stereotypes that alienate most people from Christians. This criticism is true, however it is qualified and necessary. The messages are shallower for the reasons stated above, but these messages are not supposed to be the only Christian education that is experienced during the week. The church offers over 100 midweek classes and fellowship groups to delve deeper into the Bible and Christian Doctrine and life. So, to criticize the Mega-Churches for shallow sermons would only be a relevant point if they did not stress midweek study groups or if you are too lazy to attend more than one church function in a week.
The Second Criticism is that they are too focused on entertainment, and that is the real reason people attend and stay at the churches. This criticism seems to indicate that Church is supposed to be boring and uncomfortable, but they insist that it is more complicated than that. Anyway, I will discuss the entertainment elements of the church that I attended.
1. Multi-Media
The church has an elaborate set-up as far as media. The church has two large screens on either side of the stage, the stage has infinite color and lighting options, and the service is live broadcast unto the screens from 3 cameras at three different angles to the stage. So during a song, the video feed is constantly cutting between the cameras much like a live concert DVD of one of your favorite bands. The songs are performed by a full band who are quite talented complete with guitar solos and the like. And the speaker system is top-notch, and during the sermon the lights are dropped like a theatre to draw you eyes up front.
2. Comfortable Seating
The stadium seating is likened more to a movie theatre than a pew, the seats are very comfortable.
3. Drama
They have a short drama segment to illustrate the message and to drive home the point. They are clearly practiced and taken seriously.
These are the main entertainment elements under scrutiny. I first want to say that none of these things are sinful or wrong in essence so the purpose and execution of these things would decide whether or not they are harmful in a church setting.
The Multi-Media is probably the most criticized entertainment feature, because the service "Isn't supposed to be a Rock Concert!" The use of overhead projectors is largely used in churched to make it easier for reading the lyrics of the songs, so digitizing this shouldn't be a stretch. The Camera work is very nice, because in a larger venue it becomes difficult to see many things with clarity, so when the Pastor makes a hand-gesture it can be seen easily on the screen. Seeing things more clearly is obviously an improvement so that's settled. As for the band, what harm is there in a quality band performing the songs? I don't enjoy hymns, so how could my worship from them be of a higher quality than me singing along to a song with the band? I know I am partial to songs that don't come in hymn form, because hymns make me feel like I am reading out loud and not internalizing anything that I sing, but if I find that I can worship with more modern music and not with hymns does that mean I am a lesser Christian? If you said yes, we need to have words. As for the lights, I pay much better attention when I am not looking at the funny people around me, plus the lighting really works to draw your eyes up to the stage and screens. As for the lights down being a sedative, I was definitely tired during the two services but I was never tempted to sleep as I often am because the service is much more engaging than a traditional service.
Next is the Comfortable seating, I see no reason to be uncomfortable on Sunday morning. Unless you believe in Ascetic worship like the archaic monks who used to beat themselves as an act of worship, being uncomfortable is not in anyway more Godly. Comfort is not sin, now valuing comfort over something else more important could be bad, but if you are shopping for Chairs and you can afford the comfortable chairs why cheap out and make everyone suffer. I can pay a lot better attention when I am not busy trying to keep my butt from falling asleep on the flat pew at church. I never thought about my discomfort during either service and I would count that as a credit to the church.
Lastly we have Drama; some churches have begun to turn on this issue because the power of it is undeniable. I can tell you exactly what each of these services were about because I remember the Drama, and one of these services was several months ago. I can't tell you specifics about a single other service I have ever attended, I probably learned something but nothing about the service was memorable. I can't find a single thing wrong with having a meaningful drama portion to demonstrate the point of the message especially when it goes so far to keep the truth in the memory of the viewer.
These issues aren't tied to the Entertainment issue, and are more central to the debate.
1. A large congregation means no Close Relationships
This is the worst argument against Mega-Churched because the whole structure of the church is to get people with others like them and try to build friendships. I wasn't kidding when I said that they had over 100 midweek meetings and classes. You could say, "I'm a 23 year old single mother with brown hair" and in a church that size you could be one of 12 people with those criteria. In smaller churches you have to be less specific when creating fellowship groups because a congregation of 50 can only split up so much. In a church of 1000 you can truly be among your peers, and delve into those things that interest and suit you. Actually this was the most appealing thing about a Mega-Church because as a Teacher I could teach on obscure and detailed issues of the Christian life that would probably only attract like 5 percent of a given church, so in a smaller church I would have a class of 5, while here I would have a class of 50. I have been in smaller churches my whole life, and I know that thousands of ideas are dismissed because it has to be popular enough to attract the majority of the church body because the church can only do a few events a year, but in a Mega-Church you could create almost any event and have enough people interested to get it off the ground. I find this as the greatest strength of a Mega-Church.
2. The Doctrine of the Church has to be more open, so as to not cause division.
This is the only criticism that carries any weight. Larger churches do tend to carve out less Dogma so they won't turn people off before they enter the church. So while the basic tenets of Christianity are there, the lesser doctrines like the ones that separate Baptist, Presbyterian, and Methodist churches are not carved in stone. This doesn't bother me so much, because we shouldn't be killing each other and dying for these Dogmas. The things made clear in the Bible are kept and the theories that we build off of the Bible is left more up to the individual. I know this the foundation for the argument against Mega-Churches, because each denomination can't imagine seeing their quirks as anything other than the Perfect plan of God. But if God cared that much for Infant Baptism and the other beliefs He would have put them in the Bible. Dropping the significance of that stuff would be beneficial anyway; I put that stuff one step above Saint Worship. And you know nothing is worse than the Catholic Church. (Way to end with a gross generalization Dean)
Ultimately, the reason I think this church is a success is because every Sunday is a deeply thought out and orchestrated presentation. Everything and I mean everything contributes to the message and what the Preacher wants you to go home with. The whole hour is carefully directed and I know that a lot more work went into making these sermons come together than any other Church service I have attended. I am going to allow for the fact that this is not how it is going to be all over, many Mega-Churches probably do suck, and are exactly the opposite of what I detailed above, but I think I have disarmed the ability to discredit the thought of a Mega-Church in principle, because in Theory a Mega-Church is superior in almost every way to a smaller church. The only strengths of a Smaller Church in Theory are preferential and aesthetic, like "I like smaller buildings", or "I like the ability to know everybody's name". Plus, I bet gossip would be harder in a Large Church, I can't say with certainty, but I know small churches do nothing better than Gossip.
I would love e-mails if you disagree, or even if you agree. But don't tell me about Mega-Churches that were lousy. I know they exist so don't wait your time with it. And don't tell me about your perfect small church because I know they exist too, I don't hate small churches and will probably attend them for the majority of my life. I am just defending Mega-Churches because they can be a great thing.
Friday, April 09, 2004
Angel
I'm finally catching back up in
Angel
and I have to mention the puppet episode from this season. You might have heard of it or seen it but the episode is about a TV show where the puppets are using televisions to influence little kids, and when Angel investigates the source of the madness he is turned into a puppet. Sounds dumb right? Hilarious. Everything he did was hilarious, I laughed harder than I did to the William Hung album. I am trying to find pictures. I'll post them when I do.
(Snarkfest is bad don't go there)
It even turned into a Vampire
You need to watch this
montage
if you have decided to ignore my shameless plug so that you can get some enjoyment out of the puppet thing, if you did listen to me visit this after you watch the episode. Its a video montage of the episode to the tune of
Muppet Babies
. I'm gonna watch it like George watches my Samuel L. Jackson beer commercial from
The Chappelle Show
.
William Hung

Perhaps the only good thing to come out of American Idol, William Hung is just too funny to write off. I'm sure the novelty will fade, and I am surprised they were able to pump out an album so quick to cash in. I had no intention of listening to the album, I just wanted to chuckle at the fact that it exists, but a co-worker came into work saying it was the best cd he had ever bought. I then had to hear it for myself, and although I don't plan on editing my best 50 records of all-time, it is memorable. The songs are like horrible train wrecks of vocal performance, but it is so sad that it becomes somehow brilliant. I just kept laughing, and I caught myself and felt very ashamed. But to hear his renditions of such classics as Hotel California, Can You Feel the Love Tonight, Y.M.C.A, She Bangs, Bailamos, I Believe I Can Fly, and Rocketman are just...I can't describe it...its bizarre but you have to experience this. But the best thing is the inspirational thoughts between songs. And I'm not the same anymore, I believe that I can fly, William Hung you are a true Inspiration and anything I accomplish from now on is built upon the confidence and power you gave me.

Essential Hit - Shake Your Bon-Bon

The second song selected from Ricky Martin's collection (Elton John has 3 songs featured) is far better than the song that spawned his career (She Bangs). Although all the Latin songs are great, hearing him trying to capture the Latin essence with his oriental voice is classic.


Wednesday, April 07, 2004
Walking Tall Review
An exciting action movie that was everything I wanted it to be. As I have been saying I really like the Rock, and this one was his best so-far.
The Rundown
was lacking in some areas and you had to take solice in the action and the few funny sequences. But this one has excellent action, every action sequence is memorable, and it gets me to nod my head and grunt with every good blow (Guys you do it too). The negatives are all allowable but present, first and foremost the villian of the movie is the villian long before he is linked to villainy. As in, the Rock is busting his balls a bit prematurely. Before we really know the bad guy is really the bad guy, he is getting owned. And the Rock never really tries to handle the situation peacefully. So for the first few action sequences I am like "Thats not really justified...but while your at it club that guy good." He was right in the end so its all OK. Second, the movie is short. The movie (i.e Previews) started at 7:00 and we walked out at 8:30. The movie never dragged or stalled, but I guess I might have liked a bit more screen time, maybe developing the villian in the beginning of the movie. The acting was all decent, The Rock does it all well, Johnny Knoxville is as funny as he was on Jackass, and
Neil McDonough
is always good. I am glad to see him getting more movie roles because he can play the bad guy or the good guy equally well.
The best thing about this movie though was the arguments and then theories that came out after it. I shall begin.
The Theory of the Stick
A blunt instrument is always a better implement in battle. In both real life and in the movies. A gunfight can be exciting but when broken down it plays like this. Miss miss miss miss miss miss miss miss miss miss Shot Dead. All the misses are not that fun, and the payoff is as it almost always is, Dead they fall down. But a 2x2 like the one pictured above delivers only excellence. Smash - Broken Arm, Crunch - Bloodied Face, Crack - Knocked through a wall. Every shot is a payoff. Now Julie explained that this is not how it is in real life, and that may be true...but it should be. I know that I can kill someone with a Gun, where is the challenge? You can't talk smack to them when you do, "Oh, you shot me, way to go nerd." Only wimps fight with guns, unless you are outgunned or out numbered. If I beat you with a board I OWN YOU. You will forever be mine, and when you go to the afterlife you will continue in my service. If a man who looks like the Rock walks up to you with a gun what do you do? You might run, you yell for help, maybe be creative, maybe pull your own gun. But if he walks toward you with a giant stick you will fall to your knees and wet yourself. There is no stopping the pants wetting. So there, I have proven that blunt weapons are better than guns.
Before I get e-mails saying I'm a walking example of the violent people who were created by movies and video games, I was joking above, its a mindset of a movie viewer. And I don't condone the ruthless beating of people in real-life. In real-life I condone self-defense and not vigilanteism...But if ever possible self-defend with a board.
King of Queens
Best Sitcom on TV
I forgot about it when I made the "Top Five Shows on TV" list. Bump
The Daily Show
(Sorry Jon Stewart) this show is jumping in the ranks. Its too true for me, if you haven't met me take Kevin James add video games and you get me. Julie isn't quiet Leah Remini's character but she's close enough that its funny. I love the show, yet it maked me look so dumb when he does the same thing as me all the time. Anyway, you ought to watch it.
Tuesday, April 06, 2004
Movies of which I am ashamed to Love
Pee-Wee's Bid Adventure
Pee-Wee is almost a dirty word. Ever since the scandal with Paul Reubens it has been taboo to enjoy Pee-Wee. But I don't care, this movie rules. It's a Tim Burton movie so I am already into it, then it has so much good humor you can't deny it. I loved it as a kid, and it still makes me laugh today. And no matter how old you are, you have to rewind and watch Large Marge in Slo-Mo.
Ernest Movies
Another childhood love that didn't die. Ernest is just hilarious. The physical comedy is always excellent, and Jim Varney is one of the best at making memorable comic faces. They are an innocent delight, and no child could deny its power. I just revert back to that mindset and delight in these movies. The best from the series are
Ernest Goes to Jail
and
Goes to Camp
.
FX 2
Not many people even remember this movie, whose biggest star was Brian Dennehy, but this was a delightfully fun action movie. Brian Dennehy works well as a humorous actor, and the action scenes were very original. Feel-Good action movies are always good, and this one stands out because of its originality, although its lack of a hot star killed it.
Hulk Hogan Movies
I was a Hulkamaniac, I still am. If Hulk Hogan showed up today and told me we had to go fight crime I would grab my vitamins and go. I just love the man, he is one of the best heroes from my youth, and I loved seeing him in movies…no matter how dumb. Before you ask, yes, I do own
Mr. Nanny
. It's a stupid fun family movie, and I will one day show it to my kids so they can look up and be ashamed of me. The same goes for
Suburban Commando
, and
No Holds Barred
. And I created him in
Smackdown
. It is sooooo good.
National Lampoon's Loaded Weapon 1
One of the easily forgotten National Lampoon movies. But how could you deny the casting? Emelio Esteves, Samuel L. Jackson, Tim Curry, Jon Lovitz, and Kathy Ireland. It is just ridiculous spoofing of our favorite action movies like
Lethal Weapon,
and
Die Hard
, and honestly Samuel L. Jackson is hilarious in comedies. I was really hoping we would get some sequels since a number was in the name, but since I think that it flopped we will probably be denied forever.
Muppets Take Manhattan
I love this movie too much. My girlfriend hates it but I start singing songs from this all the time, usually "Right Where I Belong". It is a really good movie as far as drama, and you can't hate the Muppets unless you are a Nazi bastard. No Muppet movie is as good as this one, and I will be buying the recently released DVD soon.
The New Guy
D.J Qualls? How could this be good? But oh man is it good. Its one of the funniest teen comedies to come out in a few years, actually I think the last one that I felt was worth owning was probably
Can't Hardly Wait
. Qualls pulls of the lead role without a hitch, and the supporting cast left nothing to be desired. It's another feel-good movie, and it should be enjoyed by all.
Star Trek Movies
It's hard to enjoy anything related to
Star Trek
without being declared a nerd, but the
Next Generation
show and movies are all top shelf quality. I recently picked up some of the classic movies but I don't know when I will get around to them, but I do really yearn to finish watching the series, I am waiting for the opportunity to watch seasons 4-7.
Crocodile Dundee Series
For some reason this series has become a shameful thing, and I don't know why. The movies are the perfect blend of action and humor, and all action comedies should measure up to them. And Paul Hogan is my hero, and it would require much deception for you not to agree. The third in the series can be ignored, but the first two are flawless.
Dick Tracy
This movie was great, how can it be denied. I hear the stupidest reasons for its lack of worth. "Unnh...Madonna is in it" "Ahhhh...Al Pacino looks stupid" Come on. The movie was a delightful comic movie, with great casting with Pacino, Madonna, Warren Beatty, Dustin Hoffman, William Forsythe, Mandy Patankin, Paul Sorvino, Kathy Bates, and Dick Van Dyke. This is probably my favorite movie that Madonna made, and the only one I like with Warren Beatty. Actually, I have yet to purchase this one, and after writing this I really want it.
That's it for this round, but I have a slew of guilty pleasure movies in my collection, so I might do this again.
I'll do the Supporting Actor update tomorrow. I'm tired.